Thank you!
A big Thank You to all for attending the hybrid EMS Annual Meeting 2023. Whether you participated in person in Bratislava or online, we hope your expectations were met und the conference was interesting and will result in many new collaborations and projects. The EMS2023 was attended by 633 participants from 43 countries: 523 onsite in Bratislava and 110 online from across the globe. The EMS Annual Meeting 2024 will be held from 2 to 6 September 2024 at the Historical University of Barcelona, Spain, and we hope to see many of you again there.
EMS2023 Outstanding Poster Award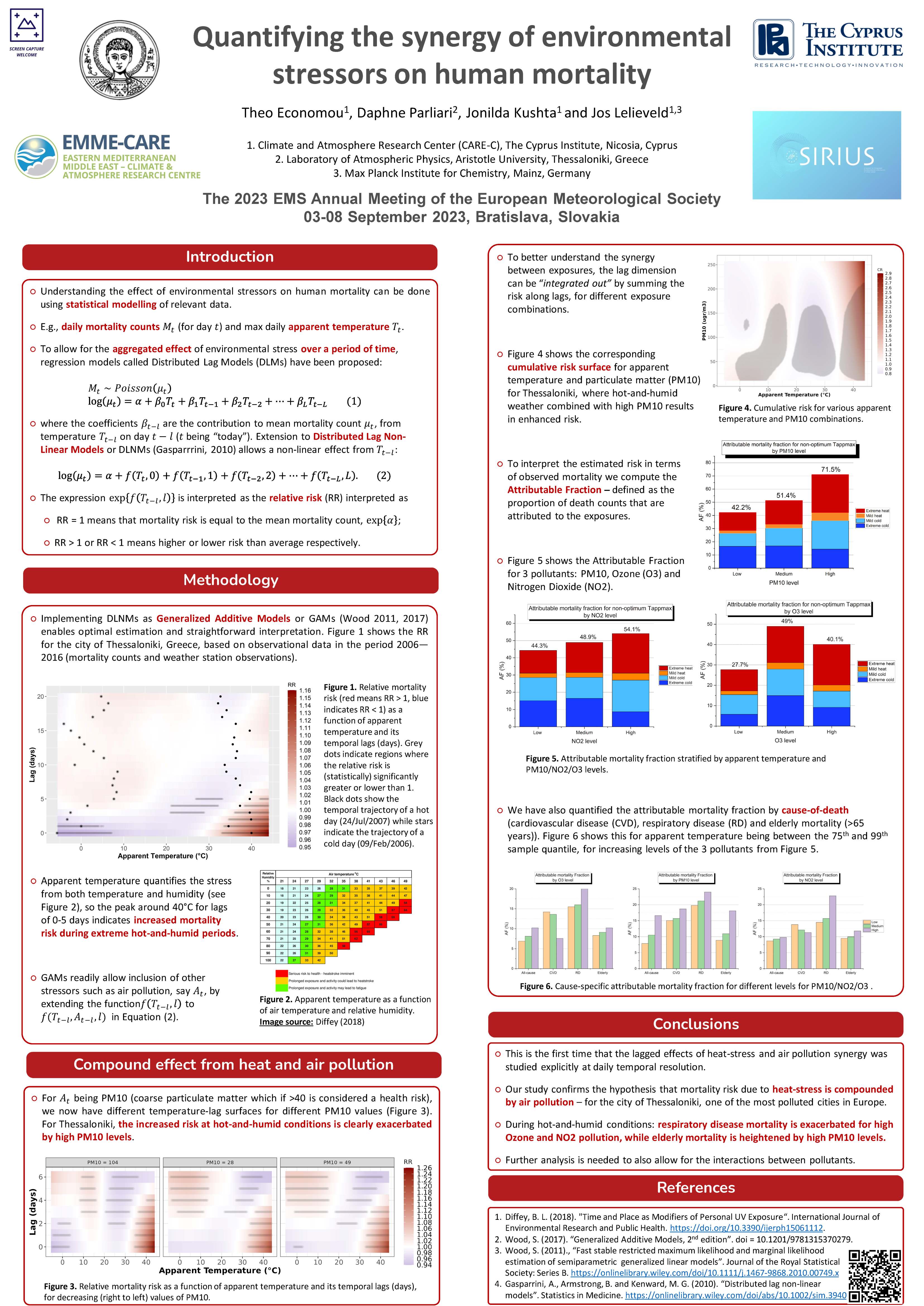 The EMS2023 poster award winner is Theo Economou from Climate and Atmosphere Research Center (CARE-C), The Cyprus Institute. In considering the compound effects of heat and air pollution on mortality, Theodoros Economou and his colleagues took a novel approach to investigate a growing societal problem in this study. Read more
Thanks to everyone who contributed to the public vote!
Country statistics
| | |
| --- | --- |
| Country | Number |
| Germany | 126 |
| Czechia | 39 |
| Switzerland | 36 |
| Spain | 34 |
| France | 29 |
| Netherlands | 29 |
| Austria | 28 |
| Italy | 26 |
| United Kingdom | 25 |
| Norway | 24 |
| Hungary | 23 |
| Slovakia | 20 |
| Poland | 19 |
| Finland | 19 |
| Korea, Republic of | 17 |
| United States of America | 14 |
| Ireland | 13 |
| Cyprus | 12 |
| Greece | 11 |
| Croatia | 11 |
| Slovenia | 9 |
| Belgium | 8 |
| Denmark | 8 |
| Australia | 7 |
| Israel | 6 |
| China | 6 |
| Bugaria | 5 |
| Romania | 5 |
| Sweden | 4 |
| Estonia | 3 |
| Japan | 3 |
| Serbia | 3 |
| Portugal | 3 |
| Brazil | 3 |
| Hong Kong | 3 |
| Taiwan | 2 |
| Albania | 2 |
| Türkiye | 2 |
| United Arab Emirates | 1 |
| Lithuania | 1 |
| Uruguay | 1 |
| Canada | 1 |
| Morocco | 1 |